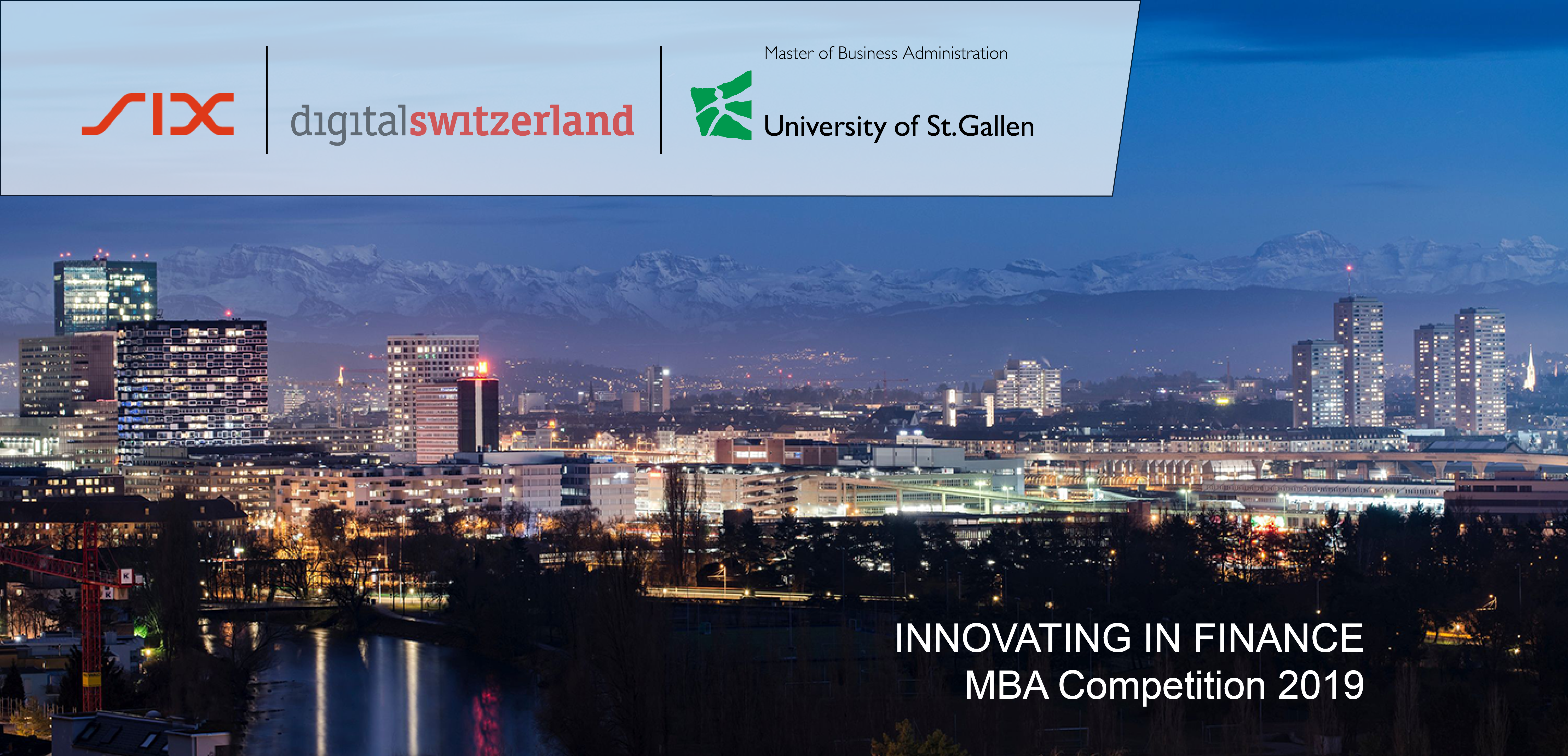 Welcome to the INNOVATING IN FINANCE MBA Competition
11-12 April 2019
Zürich, Switzerland
The competition is organised and hosted by SIX Financial Services, Digital Switzerland, and University of St.Gallen MBA. The competition aims to bring the best MBA talent together to solve innovation challenges in the world of finance.
Registration
Click here to access our online registration form:

One team from a business school accepted
Four MBA students per team (all must be currently enrolled in an MBA programme at the time of the competition)
Competition Overview
We welcome all currently enrolled MBA students, and will accept one team from a business school, with four students registered per team. Teams will work on a case that is jointly developed by SIX, Digital Switzerland and the University of St.Gallen MBA.
Switzerland's leading FinTech company, SIX, has transformed the financial market for the past 20 years and continues to do so with the newly created SIX Digital Exchange in 2018. This new exchange is the first in the world that will allow fully regulated trading of digital assets. But how will this affect business models?
We are inviting the best MBA students to the SIX headquarters in Zurich, at the heart of Swiss banking, to use their analytical and entrepreneurial skills to solve our case study. They will have exclusive access to our information platform and experts in trade and banking services to come up with the next big business model to transform finance.
The case will focus on innovating in financial services, but a background in finance is not required to participate. We want to attract teams comprised of diverse backgrounds, in order to bring a wide range of new ideas to the issue addressed in the competition. Teams will first submit their case solutions via email. Teams will then travel to Zürich to present in heats to a panel of academics and corporates. Teams will also have to defend their solutions during Q & A. The top team of each heat will be asked to solve and present an additional component. The overall winner will be announced at the event.
Benefits
Spend time in Zürich, Europe's innovation hub and one of top 5 cities to live in Europe (Economist Survey 2018)
Get to know MBA talent from other competitive business schools
Flex your case solving muscle against a jury of topnotch academics, finance professionals, and digital change agents
Network with leaders from SIX, and with other invited corporate guests representing leading global companies headquartered in Zürich
Expand your network, have fun, take up the challenge!
Competition Prize
CHF 5,000- will go to the winning team.
Timeline
| | |
| --- | --- |
| 28 February 2019 | Registration closes |
| 28 February 2019 | Registration payments |
| 08 March 2019 | Cases sent out |
| 29 March 2019 | Cases submitted |
| 01-05 April 2019 | Case review by judges |
| 11-12 April 2019 | Competition takes place |
| 12 April 2019 | Winners announced |
Competition Partners
SIX Financial Services is the backbone of the Swiss financial centre, providing services in the field of securities trading, provision of financial information, and cashless payments. Thanks to SIX's outstanding IT infrastructure, it allows Switzerland to be one of the best placed and top performing financial centres in the world. SIX serves an international clientele, and has a presence in 22 countries. SIX is at the forefront of innovation, and is a passionate advocate for FinTech in and from Switzerland. Website: http://www.six-group.com
Digital Switzerland is a cross-industry association created to strengthen Switzerland's position as a digital hub, and to advance digital innovation across various industries: Fintech, Life Science, Fashion, Medtech, etc. The association focuses on three key areas: attracting outstanding digital talent, helping existing companies master digital challenges and strengthening the Swiss startup ecosystem. Website: https://digitalswitzerland.com
University of St.Gallen was founded in 1898, and has become a centre of excellence through its practice-oriented approach, international flair and integrative view of studies. Today, it is one of Europe's leading business schools, and is EQUIS and AACSB accredited. The University of St.Gallen MBA offers full-time and part-time MBA programmes, and focuses on integrative thinking, innovation, purpose, leadership and career development. Website: https://www.mba.unisg.ch
Fees
Registration fee is CHF 500- per team
Invoice will be sent separately and must be paid by 28th of February 2019
Additional travel and accomodation fees will be covered independently by the participants
Details of competition location and reserved accommodation will be distributed by early February 2019