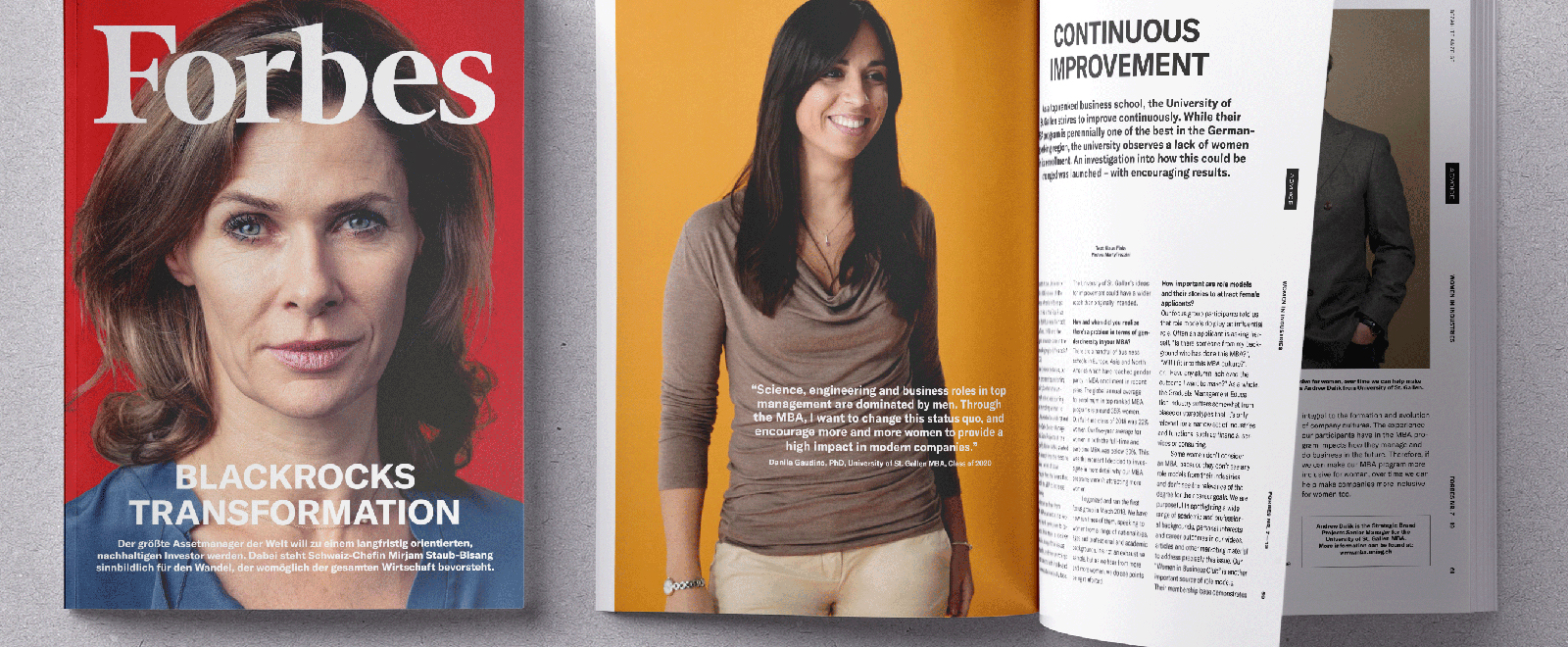 Important Gender Topics to Investigate at All MBA Programmes
If you have additional ideas to suggest or issues that you want to ask about, we would love to continue building the industry conversation. Please write to us at: mba@unisg.ch
There are a handful of business schools in Europe, Asia and North America which have reached gender parity in MBA enrolment in recent years. The global annual average for enrolment in top ranked MBA programmes is around 35% women. There are some programmes which have over 40% women, plus a handful that have created MBA classes with more women than men in recent years, such as Edinburgh Business School in Europe, Fudan University in Asia and the University of Southern California in North America.
A look at GMAT test taking data also shows that each country has a different percentage of women taking the exam for the purpose of applying to an MBA programme. Markets dominated by women GMAT test takers can be found worldwide. In Testing Year 2018, they include, among others, Vietnam at 66% women, Finland at 60% women and Morocco at 51% women. The global average for women sending GMAT scores to MBA programmes in Testing Year 2018 was 35%, which is aligned with the observed global enrolment rate mentioned earlier.
Knowing these global reference points has heightened our self-awareness. Our Full-time class of 2018 was 22% women. Our 5-year average for women in both the Full-time and Part-time MBA was below 30%. This was the moment we decided to investigate in more detail why our MBA programmes weren't attracting more women. We organised and ran the first focus group in March 2018. We have now run multiple focus groups, speaking to women from a range of nationalities, ages and professional and academic backgrounds. It's not an exhaustive sample, but as we hear from more and more women, we do see points being reinforced.
Here are some key findings, plus ways we are working to improve. These issues can be investigated by applicants at all MBA programmes, to help understand why a programme you are interested in is either succeeding or struggling to enrol women.
Does the programme have an inclusive in-class experience?
When reviewing the cases used in our core courses during the Full-time 2019 MBA pro-gramme, we found that only 17% featured women and only 8% featured women in C-Level positions. It's partly up to case writers to seek more female perspectives and create more female characters in their cases. Then there is unconscious bias in how cases are selected. We can consciously address this issue by searching for materials that satisfy both our educational and inclusion criteria. We can also be active in advocating for more of this material to be developed.
We speak with professors, trainers and visiting companies about using inclusive language and behaviour. We have seen a reported improvement. For instance, in terms of speakers using the phrase 'he or she', rather than just using 'he'. This small change has meaningful impact, in terms of making the immediate room more inclusive and shifting the way our participants perceive the business world at large.
Does the programme offer women-specific Career Services information?
One piece of feedback that emerged from the focus group was the desire for women-specific Career Services advice. This was framed in two ways. One, the women wanted to be able to ask specific questions about parental leave or the prevailing cultures at certain companies. Also, they wanted to ask about salary negotiation tactics as a woman. Two, the women also said it was important to discuss these very same topics as a class. They wanted everyone to understand that the women in the class may face different salary negotiation environments than their male peers. They highlighted the importance of getting everyone on the same page.
In 2018 we reconfigured our Career Services to create more opportunities for our MBAs to get personalised 1-on-1 support. Women have increased opportunities to individually bring forward the gender-related questions that are most important to them. At the same time, we became more attuned to ensuring these topics are covered in classroom settings. Salary negotiation tactics are discussed openly in our Negotiations course. A variety of gender-related leadership examples are addressed in our Career Development courses. We are looking for more ways to bring women-specific careers topics to a mixed audience.
Does the programme have strong role models?
Our focus group participants told us that role models play an influential role. We are pur-poseful in spotlighting women in our communications to address precisely this issue. Both women and men can see the leadership roles women take both during the programme and within the alumni community. Our Women in Business Club is another important source of role models. Their membership base demonstrates the diversity of career paths that our MBA graduates have. We received feedback that it's helpful to have women in our Talent Acquisition Team. Some women applicants want to speak with another woman during their application process. We've also received feedback that it's inspiring to see women in senior staff positions at the MBA programme.
We think it's important to be a role model program within the Graduate Management Education industry. To this end, we have been sharing our focus group findings with our industry peers. The Graduate Management Admissions Council is an industry body that brings together the top business schools from around the world at their annual conferences. At the 2018 European conference in Berlin and the 2019 global annual conference in Denver, a member of our team presented seven key issues identified in our focus groups. For each issue we offered possible solutions and initiated an open dialogue amongst our peer institutions.
A crucial step for creating an inclusive MBA experience is to get men on the same page as women, in terms of recognising issues such as gender imbalance in case studies or salary negotiation strategies. A harder, following step is to get men to take action on these issues. For men to not only acknowledge issues when they see them, but to be the ones who bring forward feedback and advocate for change. Because when men speak up, it makes it easier for women to speak up. Our focus group participants said that, as women, they don't want to be seen as the only ones making all the noise. They don't want to be the only ones taking action when they see something. So, they withhold feedback. Men can help women greatly by also asking for change and calling out issues when they see them. We actively encourage this. Men in the MBA staff act as role models, and we have observed an uptick in feedback from men in the programme since we have started our focus groups and become more active in highlighting this point.
Does the programme have quotas for women?
Our goal is to make the MBA programme more attractive to women, but we don't want to set a target for enrolment of women. One resounding piece of feedback from our focus group participants was a distaste for quotas in MBA admissions. The women in the focus groups said that quotas or targets would make them feel like a statistic, introducing the possibility they are being assessed and admitted based on their gender. It was important for them to know they were being measured the same way as everyone else. Our findings suggest that quotas could do more harm than good, alienating and deterring women from applying instead of attracting them.
How does the programme view its impact on society?
There is a bigger societal goal to strive for when working to attract more women to exec-utive business education. At MBA programmes, our ultimate influence lies in the workforce. Our graduates go on to become leaders in companies. They become integral to the formation and evolution of company cultures. The experience our participants have in the MBA programme impacts how they manage and do business in the future. Therefore, if we can make our MBA programme a better place for women, over time we can help make companies better places for women too.
Note: This article was adapted from an interview in the December 2019 issue of Forbes magazine (NR. 4-19 in the DACH region) with Andrew Dalik, Strategic Brand Projects Senior Manager at the University of St.Gallen MBA.